The US Flag and Photography
It irritates me to no end to see the United States Flag used as a patriotic virtue-signaling fetish object by multiple photographers. Meanwhile, kneeling during the National Anthem is still seen as disrespectful.
To begin with, I do not mean anything US Flag styled, an embroidered flag, a lapel pin, or any representation of the flag itself. For example:
Flag-pattered bikini? I've no issue. It's not the flag, itself.
Got a shirt with red, white, and blue and stars? Same. It's fine.
Repeating flag patterned leggings? Bogan, but still acceptable.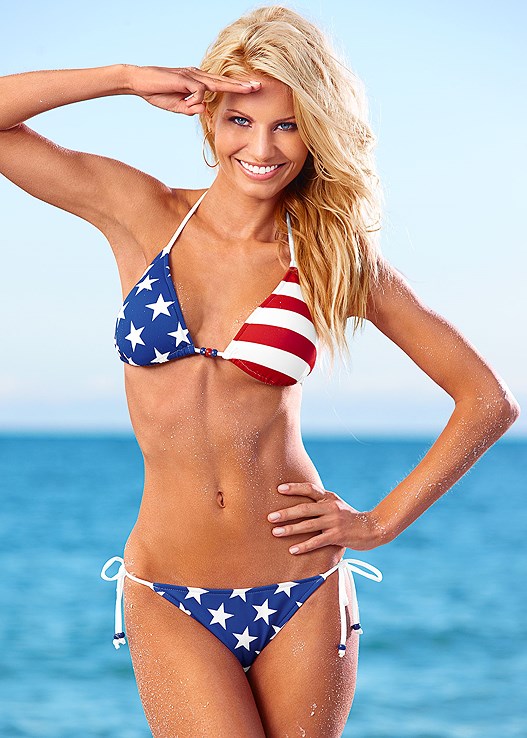 However
I do mean an actual honest-to-God, Stars and Stripes Forever, Iwo Jima planted, Star Spangled Banner, I bleed red, white, and blue from my asshole United States Flag.
Are you conducting a beachside implied nude-shoot only the flag for "modesty?" You're tasteless.
Did you wrap your teeny-bopper kid with an actual flag in a high-school senior portrait photo session and love how people simp and fawn over how beautiful the photo of Becky is? You're indulging in gross fetishism on several levels.
Did you just beat the shit out of a Russian machine that destroys anything it touches, and use the Flag as a towel over your shoulders while preaching to those godless Commie bastards about how we can all change? You're obviously a palooka from Philly.
Speaking of Disrespecting the Flag and Russians
Are you wearing a tiny flag lapel-pin for the cameras because it makes you a patriot in the eyes of your cult of morons while, you know, simultaneously sniveling as Vladmir Putun's lap-dog Russian puppet? You're definitely this guy:
Are you screaming orgasmically in a bizarre attempt to suck up to your boyfriend's is-he-or-isn't-he incestuous father while gesticulating loudly to an empty room in front of a wall of flags, there to serve as a simplistic visual aid for the Cult of Morons' benefit? You're Kimberly Guilfoyle, and I've got nothing else for you. Get help.
BuT AdRiAn wHaTaBoUt bUrNiNg tHe fLaG????????
In 1989, The United States Supreme Court upheld that burning the flag is protected speech under the 1st Amendment. I may not always agree with it, and it sometimes makes me uncomfortable to see as a Veteran; however, that's the point and it's exactly why the 1st Amendment exists.
On paper, no one is at risk of life, limb, liberty, and property by the Government for exercising free speech. It's a power left to The People, as it should be.
One could argue that wrapping your sister with a flag for a quick portrait shoot is an exercise of artistic free speech, (which it is) but free speech is not an absolute right. Depending on circumstance, and context, your expression could be subject to laws concerning commercial activity, defamation, false advertising, copyright infringement, privacy, pornography, and more.
For example, go ahead and start marketing cocaine today as a miracle cure for your hayfever problem, and see what could happen to you when the Feds find out.
If You Disrespect The Flag, Are You Actually A Traitor or Treasonous?
I really am not sure what the point of all this is, as there are much more immediate and pressing issues. Black lives still matter, Trump is an incompetently malignant cancer, COVID-19 is still rampaging across the United States, and children are still in ICE custody.
No component of the US Flag Code is enforceable, and thankfully it cannot be. No statutory penalties exist for violating any of the strongly-worded suggestions contained with in because if they did exist, the Flag Code would be unconstitutional.
The United States Constitution left it, again, as a Power for the People to decide for themselves about how the Flag, or any other National symbol, may ultimately be used, as it must be. No soldier or politician or "peace" officer ever swears an oath of loyalty to any piece cloth, book, or impeached president. They swear to support, defend, and bear true faith and allegiance to the document guarantees that their own government will never call free-expression, journalism, art, photography, Satanism, and saying that "Donald Trump is a munted cunt who absolutely must be removed from office," an illegal act. It is also absolutely not treason; however, constantly betraying your oath to bear true faith and allegiance, and to support and defend the Constitution against all enemies foreign and domestic, for Russia's benefit is, according to the letter of the law.
Also, Be Grateful This Song Exists
Conclusion and Stance on Flags
My stance is simple. I won't ever support arresting people for burning a flag, or fining them for wearing a flag as a diaper in an adult-baby photo shoot, or blowing their nose in Made In China flag-tissues, but at the same time, I will I never call any of them traitors and scream about treason.
I will, however, absolutely base my judgement of you, good and bad, on what you choose to do in that grand old Flag's name.